The Application of Oxygen Concentrators in Daily Life: Breathing Easy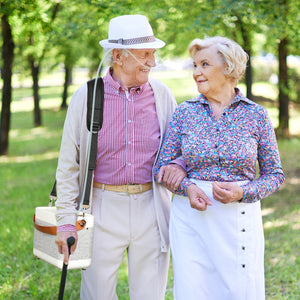 Oxygen concentrators have become increasingly popular in recent years, with their applications extending far beyond medical use. They are versatile and portable devices that can enrich our lives in various ways. In this blog, we will delve into the role and use of oxygen concentrators in daily life, including high altitude areas, outdoor activities, oxygen therapy, and beauty treatments.
What is an Oxygen Concentrator?
An oxygen concentrator is a device that takes in ambient air, removes nitrogen, and concentrates the remaining oxygen. The purified oxygen is then delivered to the user through a nasal cannula or mask. These devices are an excellent alternative to traditional oxygen tanks, as they are lighter, more portable, and produce a continuous flow of concentrated oxygen on-demand.
High Altitude Areas
Living or traveling to high altitude areas can be challenging due to the reduced oxygen levels in the air. At higher elevations, the air pressure is lower, making it more difficult for our bodies to absorb the necessary oxygen.
Oxygen concentrators can be a game-changer in such environments. They ensure that you receive a continuous supply of oxygen, helping you avoid altitude sickness and maintain your energy levels. They are especially useful for people with pre-existing respiratory issues, elderly individuals, or those who are not acclimatized to high altitude conditions.
Outdoor Activities
Oxygen concentrators can also be of great help during outdoor activities like hiking, camping, or mountaineering. Carrying a portable oxygen concentrator ensures that you have access to a reliable source of oxygen in case of emergencies or fatigue.
For athletes or fitness enthusiasts, oxygen concentrators can help improve performance and recovery. By increasing the oxygen concentration during training, athletes can push their limits and recover more quickly from intense workouts.
Oxygen Therapy
Oxygen concentrators play a vital role in oxygen therapy, which is used to treat various medical conditions, such as chronic obstructive pulmonary disease (COPD), asthma, pneumonia, and sleep apnea. Oxygen therapy helps in providing relief from symptoms, improving sleep quality, and enhancing overall quality of life.
These devices can also be used at home for patients who require long-term oxygen therapy, making it more convenient and cost-effective than relying on traditional oxygen tanks.
Beauty Treatments
In the world of beauty and wellness, oxygen concentrators have found a niche in oxygen facials and other skin treatments. Oxygen facials involve the use of pressurized oxygen to deliver nutrient-rich serums deep into the skin. This treatment is known to improve skin elasticity, reduce fine lines and wrinkles, and promote a healthy, glowing complexion.
Oxygen concentrators can also be used in combination with other beauty treatments like microdermabrasion, chemical peels, and LED light therapy to enhance their effectiveness.
Conclusion
Oxygen concentrators have come a long way from their initial medical applications. Today, they serve a wide range of purposes, from high altitude living to outdoor adventures, oxygen therapy, and even beauty treatments. As technology continues to advance, we can expect to see even more innovative applications for these versatile devices in daily life.
Leave a comment
Comments will be approved before showing up.